How to get leggings and butt lift pads same as the video for free?
Since we first publicized our videos on Tiktok, the two gym exercise videos have reached a total of 40 million views, with hundreds of thousands of comments and likes. In order to share our thanks to our fans in Tiktok, we decided to send 100 sets of the same leggings and butt pads for free.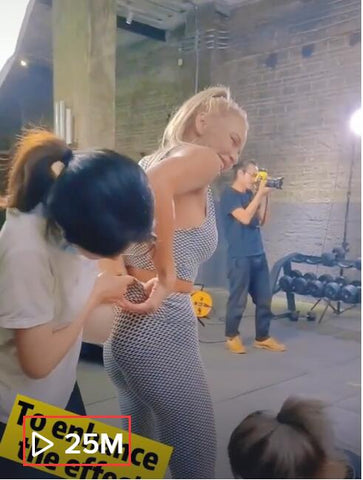 view this video in tiktok
view this video in tiktok
Before we start, let me introduce our Affiliate Program. If you become a partner of our Affiliate Program, you will be authorized to give your friends or fans 20% discount shopping in Orzyoga.com(including this set of leggings and butt lift pads), besides you will get extra 20% cash reward.HOW TO JOIN OUR AFFILIATE PROGRAM
Why should I join the affiliate program?
You can offer your friends and fans

20% discount

on all products, making you a shopping star.
You can get extra

20% cash reward

for yourself. Since the COVID-19 is so severe, It will be great to earn your new lipstick without leaving your house.
Our products have been proven to be potentially explosive, using them to make funny videos  will definitely help you

increase views and followers

, you could be the next Tiktok influencer with million followers.

One of our top Affiliates
How to get the leggings and butt lift pads for free?
Add your Affiliate Referral link to Tiktok profile or other social medias.(

Must

)
Bring 1000 visitors to our website via your Referral link.
Make original videos wearing the same leggings and butt pads.
      Note: At least match one between 2 and 3.
How to start?
Add Affiliate Referral link to your media profile.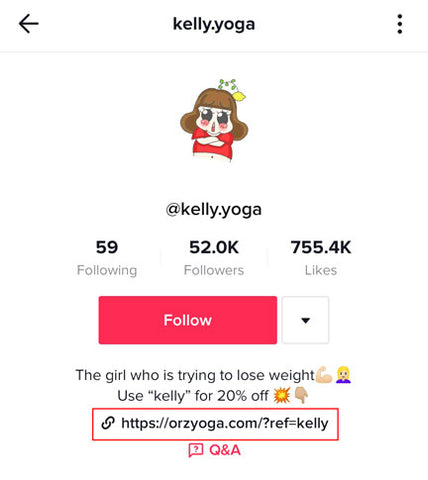 Add Affiliate Refferal Link to Tiktok Website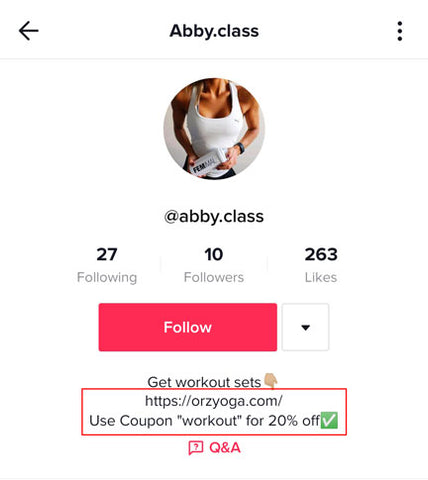 Add Website And Coupon Code If you don't get website
Start Promotion. There are three ways you could choose from:
①Duet with me(the easiest way): Duet with our videos with the words "Get it from my bio".
②Re-editing (requires video editing skills): Download our videos and re-edit it by yourself with the words "Get it from my bio".
③Make Original video (requires some creative ability): Please add WhatsApp +86 130 1482 5132

or send an email to service@orzyoga.com, tell us your media account, shipping address, cellphone and Affiliate Account, we will send you the set for free. After you receive them, you have to make a video wearing the legging and butt lift pads.Free for first 100 people only!Please be hurry!
We suggest that you do all the three ways, which will make your account get more unexpected improvement.
Note: Please use #orzyoga Hash when you posting videos, we will pick up some interesting videos and put them in our official Tiktok account. orzyoga.com reserve the final right of interpretation.